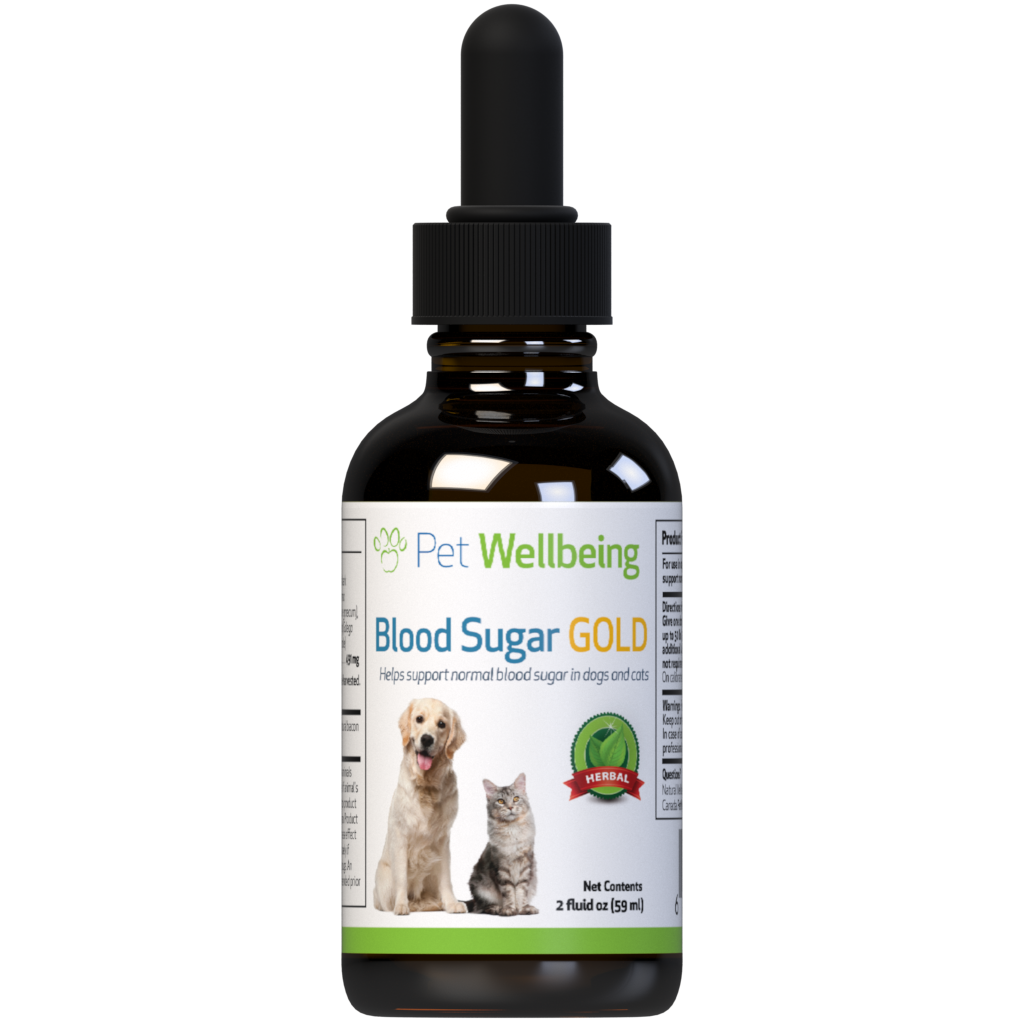 Blood Sugar Gold - Dog/Canine Blood Sugar Maintenance Supplement
Description

What is Blood Sugar Gold?

What is Blood Sugar Gold used for?

Can my dog take Blood Sugar Gold with medications?

Why choose Blood Sugar Gold for your canine friend?

Blood Sugar Gold is Formulated With:

Inactive Ingredients:  

Delivery
Help maintain healthy blood sugar levels in dogs
Supports normal blood sugar levels
Supports healthy cholesterol levels
Supports healthy triglycerides
Helps maintain eye and liver health
Help Your Dog with Blood Sugar Gold Supplement
One bottle is a 1 month supply for most small/medium dogs, less for larger breeds
What is Blood Sugar Gold?
This unique formula has been developed by holistic veterinarians to support stable blood sugar levels in dogs. Using herbs for blood sugar, it also contains herbs to support liver and eye health. Used consistently over time, Blood Sugar Gold may help support your dog's balanced, normal blood sugar levels. 
What is Blood Sugar Gold used for?
Blood Sugar Gold may be used in tandem with other protocols for supporting normal canine blood sugar levels. It is imperative to monitor blood sugar levels closely. How quickly your canine responds will be unique, and it is extremely important that blood sugar levels stay within a healthy range. 
Blood Sugar Gold is NOT a substitute for prescription medication or any prescribed blood-sugar-lowering drugs.
Before you begin administering Blood Sugar Gold to your dog, please read and follow the cautions.
Can my dog take Blood Sugar Gold with medications?
Blood Sugar Gold may heighten the effect of blood-sugar-lowering drugs. Monitor blood sugar levels closely if administering the product with blood-sugar-lowering drugs. A veterinarian can help to ensure optimal blood sugar levels are maintained. Please feel free to offer your veterinarian (available from Pet Wellbeing Customer Service) the BSG Professional Reference and bring it to your next vet appointment, in case your vet has questions about the product. 
An examination from a veterinarian is recommended prior to taking this product.
Why choose Blood Sugar Gold for your canine friend?
Certified organic and ethically wild-harvested:  Our formulas are entirely prepared from organically grown and wild-harvested herbs.
Good Manufacturing Practices:  All of our formulas are manufactured in a facility that adheres to Good Manufacturing Practices.
Full Spectrum Extract:  The full biochemical spectrum of the herbs is preserved  to ensure the potency of the extract.  All raw materials are tested for identification and purity.
Every batch tested:  Every batch of our Blood Sugar Gold is tested to ensure the highest quality and potency.  Every single batch.
FDA-Registered Facility:  Our manufacturing facility is FDA-registered.  Strict quality control procedures are meticulously monitored.
FDA Centre for Veterinary Medicine Guidelines:  Pet Wellbeing complies with the provisions of the CVM's good guidance practices for pet dietary supplements.  All ingredients and caution statements adhere to these guidelines.
Directions:
Administer product orally twice daily. Give one drop for every 2 lb (1kg) of body weight up to 50 lb. Over 50 lb, add one drop per additional 4 lb (2kg).

BEST way to give drops... Add to food. Add drops to a small portion of a favourite food or treat and ensure the entire amount is consumed.

Shake well before use. Does not require refrigeration.

We know animals can be finicky! Blood Sugar Gold is enhanced with delicious natural bacon flavour. We recommend administration of the drops in a way that your dog will like best.

Use With Caution
Safe use in pregnant animals or animals intended for breeding has not been proven. An examination from a veterinarian is recommended prior to using this product.
Product may be hypoglycemic. May heighten the effect of blood-sugar-lowering drugs. Monitor blood sugar levels closely if administering this product with blood sugar lowering drugs. A veterinarian can help to ensure optimal blood sugar levels are maintained.
Blood Sugar Gold is Formulated With:
Devil's Club root bark (Oplopanax horridum):

 

 This indigenous North American herb has multiple uses. Maintenance of normal blood sugar levels is one of its most powerful applications. It has also been used traditionally by First Nations Peoples for the respiratory system, for joints, the digestive system and as a general health tonic.
Gymnema leaf (Gymnema sylvestre):

 

 With the addition of this herb to our formula, there is specific support to the beta cells of the pancreas and also to maintain healthy blood sugar levels immediately following consumption of food.
Fenugreek seed (Trigonella foenum-graecum):

 

 A seed used extensively in India for health and nutrition, recent studies concur that healthy liver and insulin levels may be linked with regular ingestion.
Burdock root (Arctium lappa):

 

Supportive to both liver health and glycaemic levels, Burdock root serves a dual purpose in this formula. In addition, it is also antioxidant and antibacterial. Burdock is one of the chief "blood purifiers" in traditional medicine, owing to its liver, digestive and lymphatic support.
Goat's Rue herb (Galega officinalis):

 

 Used and grown in Europe for hundreds of years, this herb may allow the body to better tolerate carbohydrates. It is also one of the main plants used for maintaining healthy blood sugar levels. Its secondary ability to support the liver makes it a valuable addition to this formula.
Dandelion root (Taraxacum officinale):

 

Although both leaves and root of the Dandelion are used, we use only the root in this formula. The root is considered to be a pancreatic regulator, stimulating both the pancreatic duct as well as the bile duct. Dandelion supports portal circulation and aids digestion.
Bilberry fruit (Vaccinium officinalis):

 

 Rich in anthocyanins, these berries are considered a wonderful food source of antioxidants. The extract is known to affect the tiny blood vessels that supply the eyes. It also shows specific action in maintaining healthy blood sugar levels.
...491 mg per ml (20 drops / ml)
Herbs are certified organic or ethically wild-harvested.
Deionized water
Natural bacon flavour
Vegetable glycerine
Legal disclaimer: Results may vary from pet to pet
Delivery Information:

Orders will be dispatched within 2 working days of receipt, Monday-Friday (excluding bank holidays) and wherever possible will be dispatched the same day.
We do not process any deliveries over weekends or on bank holidays. Deliveries are made between 7am and 7pm (later at busy periods).

Standard Delivery*:

FREE when you spend over £39 or £3.95 if less (mainland only)
Delivery within 2-3 working days from dispatch (this can be longer at busy periods such as run up to Christmas etc)
Tracked for service with courier
Next Working Day Delivery (Mainland Only)
Available for £5.95 regardless of spend value
Delivery next working day if ordered before 12noon
(note: orders dispatched on a Friday will be delivered Monday, weekend orders will ship Monday for Tuesday delivery).
DPD or Royal Mail Tracked service. This is for Mainland UK addresses only
Email or text advising of a one hour delivery time slot. This will arrive the morning of your delivery day.
This service is a tracked next day service but the couriers will only guarantee delivery within 2 working days. At peak times this could be more likely. Please only contact us if you have not had delivery after 2 working days.
*Non Mainland Delivery is charged at £4.95 for Standard Delivery
Further details regarding delivery information can be found on our Delivery Information Page.