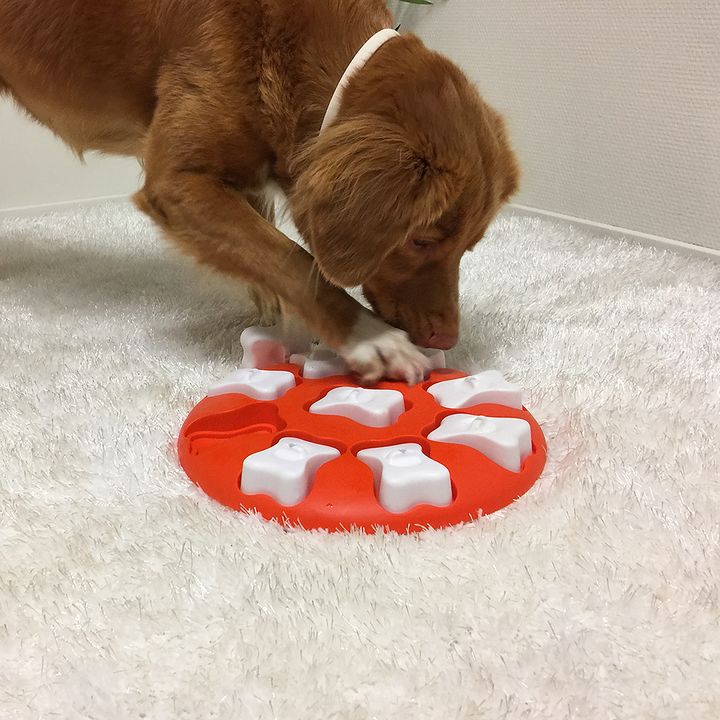 Dog Smart Treat Dispensing Dog Toy Feeder
Hide, seek & treat with this dog game! The Dog Smart works to fight boredom by keeping your dog busy, and helps reduce destructive behaviours. Easy to use and clean, this dog game is sure to be a new favourite!

TRAINING WITH TREATS: The Dog Smart is an entry level dog game that challenges your dog to discover treats through problem solving and exciting hidden rewards!

MIXING IT UP: The bones in this dog puzzle can be arranged to be flush with the board or elevated for different levels of challenges. When the bones (puzzle pieces) on the Dog Smart are flush with the board, your dog will learn to paw and nuzzle at the pieces differently than when the bones are elevated and more easily removable.

HOLDS FOOD: The Dog Smart is great for treating and feeding your dog because it holds wet or dry kibble!

LEVEL 1 CHALLENGE: Great for introducing your dog to treat training games, this Level 1 dog game gets your dog interested in games and prepares your pup for more exciting and challenging puzzles to come.

HOW TO PLAY: Place treats or kibble in compartments of base. Cover treat compartments with bones. The more compartments that are covered, the harder the game will be. Let the games begin! Show your dog where the treats are and watch them find the tasty reward! Dogs are smarter than you think. Sometimes we just need to teach them! Leave some compartments uncovered for your dog to gain interest.

PLAY TOGETHER: Dog Puzzle Games focus on challenging your dog's brain. Supervise when playing, and don´t let the dog chew on the toy. Teach your dog how to use the puzzle, play and have fun together. Put away until next time.

EXERCISE FOR MIND AND BODY: Dog games and dog puzzles challenge your dog's problem solving skills while enhancing your dog's mental stimulation through fun and play.

EASY TO CLEAN: To wash your dog's Dog Smart, simply remove all treats/kibble and hand wash with warm soapy water, rinse clean and dry. Fill again for more fun!

• Fights boredom by keeping your dog busy – Boredom Busters
• Helps reduce destructive behavior by exercising your dog´s mind.
• Strengthen the bond with your dog.
• Fun for all dogs – regardless of age & size

Size:
Diameter 27 cm, height 3.5 cm
Delivery Information:

Orders will be dispatched within 2 working days of receipt, Monday-Friday (excluding bank holidays) and wherever possible will be dispatched the same day.
We do not process any deliveries over weekends or on bank holidays. Deliveries are made between 7am and 7pm (later at busy periods).

Standard Delivery*:

FREE when you spend over £39 or £3.95 if less (mainland only)
Delivery within 2-3 working days from dispatch (this can be longer at busy periods such as run up to Christmas etc)
Tracked for service with courier
Next Working Day Delivery (Mainland Only)
Available for £5.95 regardless of spend value
Delivery next working day if ordered before 12noon
(note: orders dispatched on a Friday will be delivered Monday, weekend orders will ship Monday for Tuesday delivery).
DPD or Royal Mail Tracked service. This is for Mainland UK addresses only
Email or text advising of a one hour delivery time slot. This will arrive the morning of your delivery day.
This service is a tracked next day service but the couriers will only guarantee delivery within 2 working days. At peak times this could be more likely. Please only contact us if you have not had delivery after 2 working days.
*Non Mainland Delivery is charged at £4.95 for Standard Delivery
Further details regarding delivery information can be found on our Delivery Information Page.