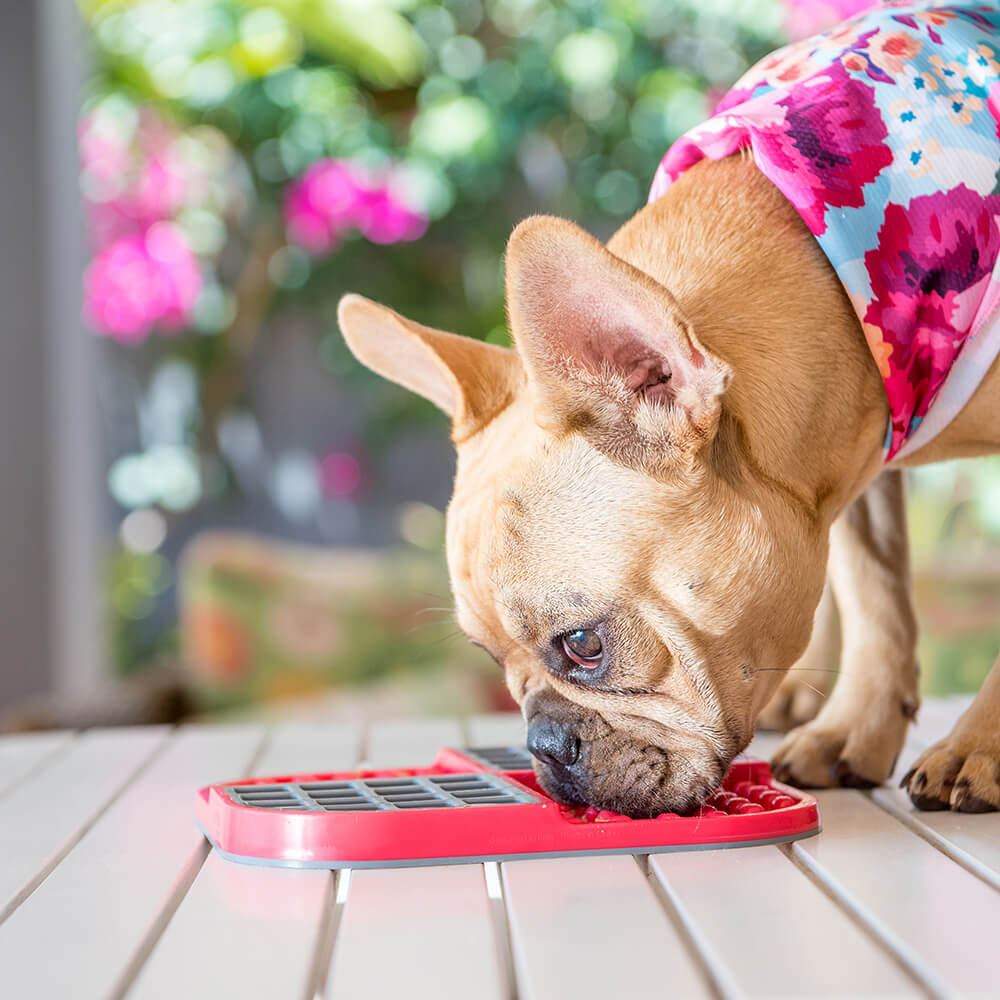 Lickimat Slomo Red
LickiMat® products are designed as tasty boredom busters for dogs. By spreading your pet's favourite soft treat over the surface, you create a fun enriching and engaging experience with them having to seek out every morsel with their tongue. Freeze treats in summer for refreshing longer lasting entertainment.

LickiMat® Slomo™ is the perfect slow feeder for cats and dogs. Because there are no annoying lumps and mazes to navigate, Slomo is ideal for flat nose breeds, like French Bulldogs. LickiMat Slomo is designed to serve wet, dry and liquid foods at the same time, without making a mess. Used correctly, the LickiMat is the perfect training aid, a stress and anxiety reliever, a slow feeder, a healthy distractor, a breath freshener and provide your dog with fun and enrichment.

LickiMat has so many benefits:

• Perfect for dry, wet, raw feeding and as a slow feeder.
• Ideal for making long-lasting lickable treats with pet food and safe human food.
• Great for calming pets during e.g. crate training, vet visits, grooming, car rides, storms and fireworks.
• Repetitive licking is soothing for your pet, releasing calming hormones into the body.
• No over feeding because LickiMat makes a small, tasty treat last longer.
• Licking enhances the sense of taste, allowing pet to enjoy just a small amount of food.
• Helps promote fresh breath by scraping off bacteria and undigested food particles from the tongue.
• Stimulates saliva production and helps clean tongue, teeth, and gums.
• Saliva production can aid digestion as it contains enzymes like Amylase.

LickiMat® Slomo™ is designed for dogs (and cats). With its square recesses and smooth bumps, it is perfect as a slow feeder and as a treat maker. When used with tasty soft foods, like smashed banana, raw food, wet food, canned food, yoghurt and peanut butter, it makes long lasting, tasty, lickable treats.

• Made from non-toxic, food grade PP and TPR.
• 20 x 20 cm/ 8" x 8".
• Suitable for dogs and cats.
• Freezer and dishwasher safe.
Delivery Information:

Orders will be dispatched within 2 working days of receipt, Monday-Friday (excluding bank holidays) and wherever possible will be dispatched the same day.
We do not process any deliveries over weekends or on bank holidays. Deliveries are made between 7am and 7pm (later at busy periods).

Standard Delivery*:

FREE when you spend over £39 or £3.95 if less (mainland only)
Delivery within 2-3 working days from dispatch (this can be longer at busy periods such as run up to Christmas etc)
Tracked for service with courier
Next Working Day Delivery (Mainland Only)
Available for £5.95 regardless of spend value
Delivery next working day if ordered before 12noon
(note: orders dispatched on a Friday will be delivered Monday, weekend orders will ship Monday for Tuesday delivery).
DPD or Royal Mail Tracked service. This is for Mainland UK addresses only
Email or text advising of a one hour delivery time slot. This will arrive the morning of your delivery day.
This service is a tracked next day service but the couriers will only guarantee delivery within 2 working days. At peak times this could be more likely. Please only contact us if you have not had delivery after 2 working days.
*Non Mainland Delivery is charged at £4.95 for Standard Delivery
Further details regarding delivery information can be found on our Delivery Information Page.